This is a 2030 Product Development-bound METRO train.
With the design freeze quickly approaching, Team METRO has been hard at work figuring out the direction and details of their project.
We'd like to apologize for the delay in our update! There was a lot of ground covered with last week's meeting (Feb. 28th). Firstly, we had a Pace alumn join the meeting as they were in Design Factory a few years back. After exchanging the pitches of the projects, all parties discussed different directions to be implemented or listed the issues run into previously. METRO is sad to say that we did not take any pictures during the meeting.
Shortly after our guest departed, Team METRO presented the user persona they'd created for imagining specific use-cases of the product for a person we'd explicitly like to help.
Team Metro would like you to meet Jaymarcus Dartag'non. He is twenty-five years old, was just removed from his parent's insurance, and wants to have a better relationship with his health. Sadly, he's a busy professional who does not see much time to visit any health-care professionals. Visits to a doctor's office take place once every year or so, and all were prompted by worrying symptoms; his last visit on his own volition was four years ago. Thankfully, he doesn't get sick too often, and he uses home remedies which (as far as we can tell) keep his immunity up. One of his parents has a history of cancer, marking him for medical predisposition.
Jaymarcus was created as an aggregate of the surveys conducted by each of the members of Team METRO, making him a plausible reflection of someone we would like to help with our product. This was done for the sake of empathizing so that METRO may determine the important tasks, questions, and answers to target in further development.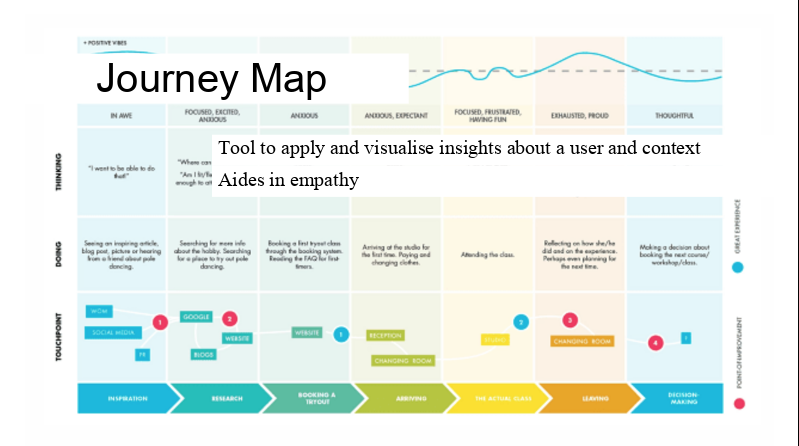 A tool that is quite useful in this process is known as the Journey map (or User journey), wherein developers of a product will imagine scenarios where their product might be used and then simulate nearly everything that comes with it: overall experience, mood of the user, technical requirements, and questions that the user (or even the designers) might have.

And so at the onset of the next week's meeting, Team METRO began creating possible user journey's for their user persona Jaymarcus. The first attempt shed some light on the issues in that specific use case: Jaymarcus was sick and stopped into use one of METRO's state-of-the-art WALNUT on his way to work (the name PORTAMED has been temporarily set-aside). The biggest problem was that it appeared that the product failed to tell Jaymarcus new information.
After pontificating the subject, Team METRO determined that the best way to provide a truly useful product was to provide a more focused test that is harder to access currently. The two options that stood out then were skin and respiratory tests, with the added possibility of an automated blood-test being included as well. This prompted a second user journey where Jaymarcus sees an ad for the new WALNUT system and decides to try it out. After the quick medical checkup, he is informed that he is at high risk for a particular illness (either lung-cancer or diabetes, it was never decided). Ideally, he would leave the machine feeling better informed about his health, as well as have with him a list of medical professionals that might help him determine more about the issue at hand.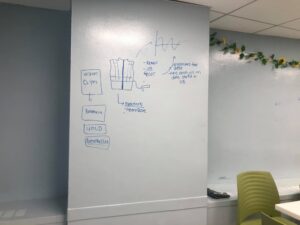 This brought Team METRO to the idea of specialized testing, specifically with respiration. Air pollution is a big issue in New York City, and many citizens are likely ill-informed in regards to the health of their lungs. Further, there is a test for identifying lung cancer in its early stages; a test that is currently done by a Doctor with a stethoscope. METRO's future scenario puts forth that Doctors and medical practitioners will have a heavy backlog performing rudimentary tasks after the recent implementation of something nearing a universal healthcare system, so removing the load from the professionals and automating the more remedial tasks is a high priority. METRO then decided that perhaps the WALNUT be integrated into the future scenario and instead focus on developing a vest that provides automatic respiratory and blood-pressure testing. Whether or not this shift in design is final has yet to be seen, but it is a possibility that METRO will be considering moving forward. Tensions are rising with the design freeze quickly approaching, but METRO is prepared to push through the pressure.
The next stop is Product Design Finalization & Design Freeze.