DesignSeers is a crew of creative minds with different superpowers, hailing from backgrounds as diverse as architecture, communication design, and information technology. Drawn to the exhilarating chaos of New York City, we found common ground in our shared passion for UX design. We're a bunch of empathetic souls, finely attuned to the needs of our users and each other. Our emotions flow through our designs, infusing them with a touch of our unique personalities.
Not only do we know how to have a good time, but our success is fueled by our tight-knit bond. Together, we've created a dynamic that fosters growth and sparks creativity. So, if you're looking for a team that not only knows how to design killer experiences but also knows how to make unforgettable memories along the way, join us on this exciting journey !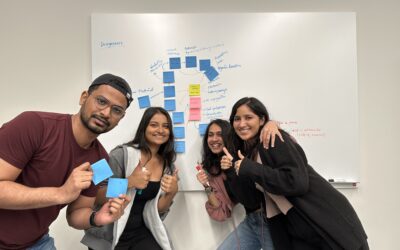 It all started with Prof. Andreea's mail that said "I am delighted to share that you have been selected to be part of the CBI A3" and fast forward to the day the teams were announced. For someone who all wished to be a part of NYCDF, this journey has not been less...