We've made it, after months of work, to the inevitable Design Freeze. This is the point of no return, really, where we've taken from our previously established design details and refined them into a final solution. This post will provide our solution overview and more on the backbones of how we are thinking of applying our solution from now until 2030.
Our Solution
Our solution aims to tackle the delay in diagnosis and lack of awareness of endometriosis while supporting wider access to Australians outside of metropolitan areas.
First, The EndoAware Program. EndoAware is a national population-based screening program for endometriosis, utilising the EndoBot technology for screens and Wellness Wheels for regional access in Australia. EndoAware also acts as a promotional and educational system created to increase awareness of endometriosis and other reproductive and gynaecological health concerns.
We'd also like to introduce our technological solution, EndoBot, a highly efficient and accurate medical scanner that creates a 3D colour image in a faster time and at a higher resolution than the current technology available.
To increase regional access to the EndoAware screening program, we have also established and designed Wellness Wheels, an autonomous bus that is designed to be warm and welcoming, providing privacy for scanning with EndoBot as well as a flexible space that can be utilised for the EndoAware educational program.
Our solution is detailed further in this post, with our final research and presentation deliverables here.
A depiction of how one would interact with the EndoAware program, EnodBot and Wellness Wheels.
Map branding by Haowei Tu (Howard). Journey mapping by Eilish Jackson & Nildene Spagnuolo.
The System
Our solutions co-exist, encompassed by the EndoAware program and supported by the EndoBot scanner and Wellness Wheels bus. We've developed a systems map to show how the solution works in a snapshot, following how a user may interact with the program, the screening process and resuls. We envision the program becoming a closed loop, encouraging annual screening check-ups using the EndoBot scanner for endometriosis screening to establish and maintain up-to-date information on one's reproductive health over time.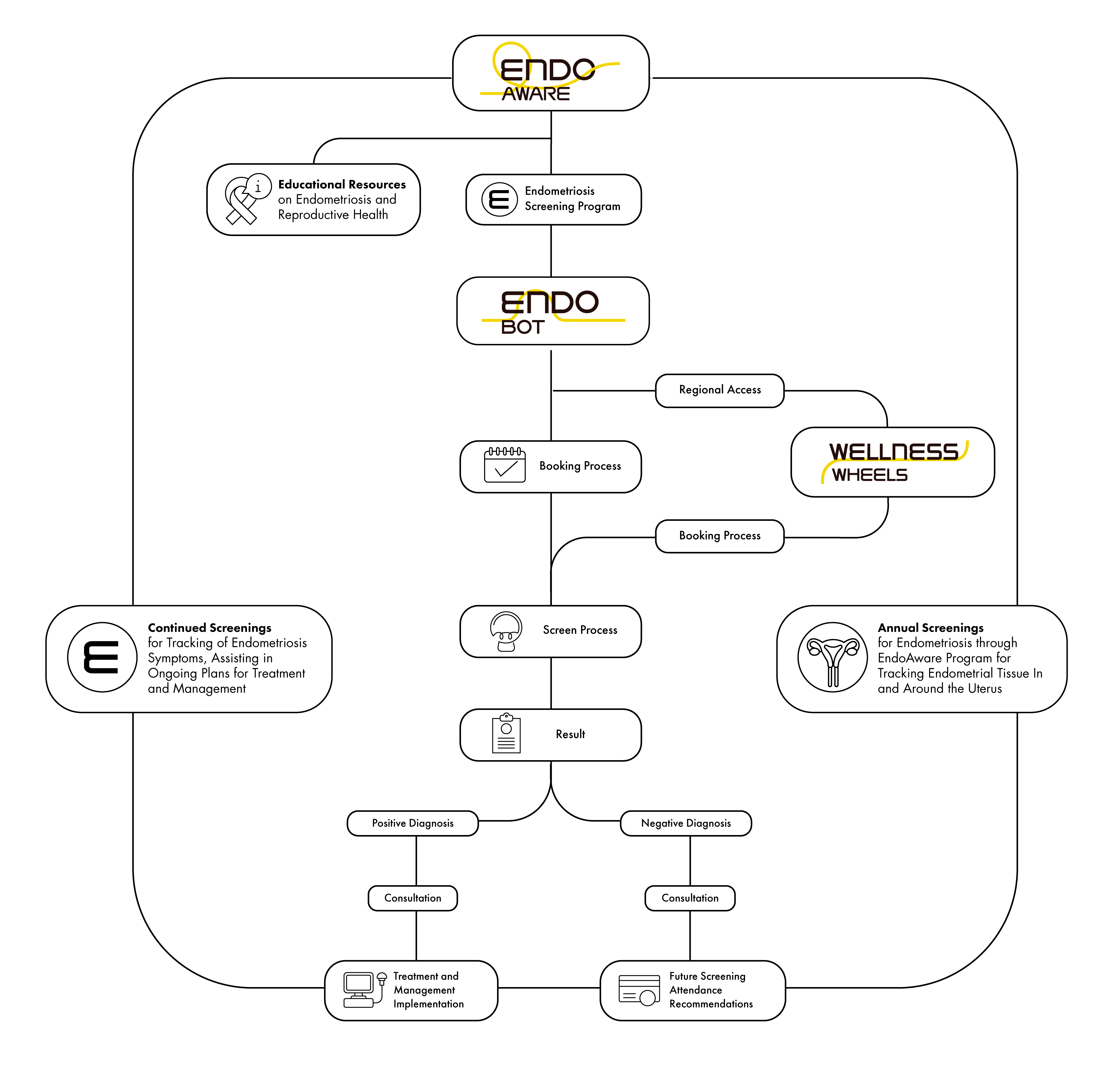 The deeper system of how EndoAware, EndoBot and Wellness Wheels work together.
Map by Nildene Spagnuolo. Map branding by Haowei Tu (Howard).
Implementation Roadmap
With the recent introduction of Endometriosis and Pelvic Pain Clinics by the Albanese Government, Australia is looking to establish 16 to 20 clinics over the next four years under an allocated $58.3 million dollars of the 2022-23 budget dedicated to addressing medical assistance, treatment and research for endometriosis and pelvic pain (Department of Health and Aged Care, 2023). Alongside this timeline, we envision an increased push for education and awareness surrounding reproductive health and chronic conditions that will go towards supporting our EndoAware solution.
Over 2023, the EndoAware program will be presented to the Department of Health, following the national population-based screening framework. While awaiting government decision, further pilots and resources are able to be implemented to support the screening programs' viability, and by 2024, EndoAware's education resources will begin being implemented across states and territories alongside the Endometriosis and Pelvic Pain clinics.
An EndoBot pilot trial will be established in public hospitals by 2025, looking at building data on how the scanning tools will work efficiently and more accurately than current diagnostic tools for endometriosis. The data from this pilot would also showcase how the scanning programs would be established in metropolitan areas and go to support the EndoAware program that has been presented to the Department of Health in the two years prior. The pilot data would also assist in any amendments to the overall program and also to EndoBot itself.
The pilot would further expand to medical imaging clinics as well, expanding out of hospitals and the Endometriosis and Pelvic Pain clinics. The pilot would lead to a push for regional access to EndoBot and general healthcare, which would result in the introduction to a Wellness Wheels pilot, supporting the accessibility of our proposed EndoAware program to regional areas.
The year 2027 marks a big year for our EndoAware program – we've hit the 4-year mark on the Endometriosis and Pelvic Pain Clinics introduced in 2023, and with it's end, we see EndoAware being approved and rolled out as it's successor. EndpAware, now approved, would become Australia's national populatino-based screening program for endometriosis using EndoBot. It will be rolled out nationally, utilised in hospitals, medical centres and in most of the established Endometriosis and Pelvic Pain Clinic spaces that remain in 2027.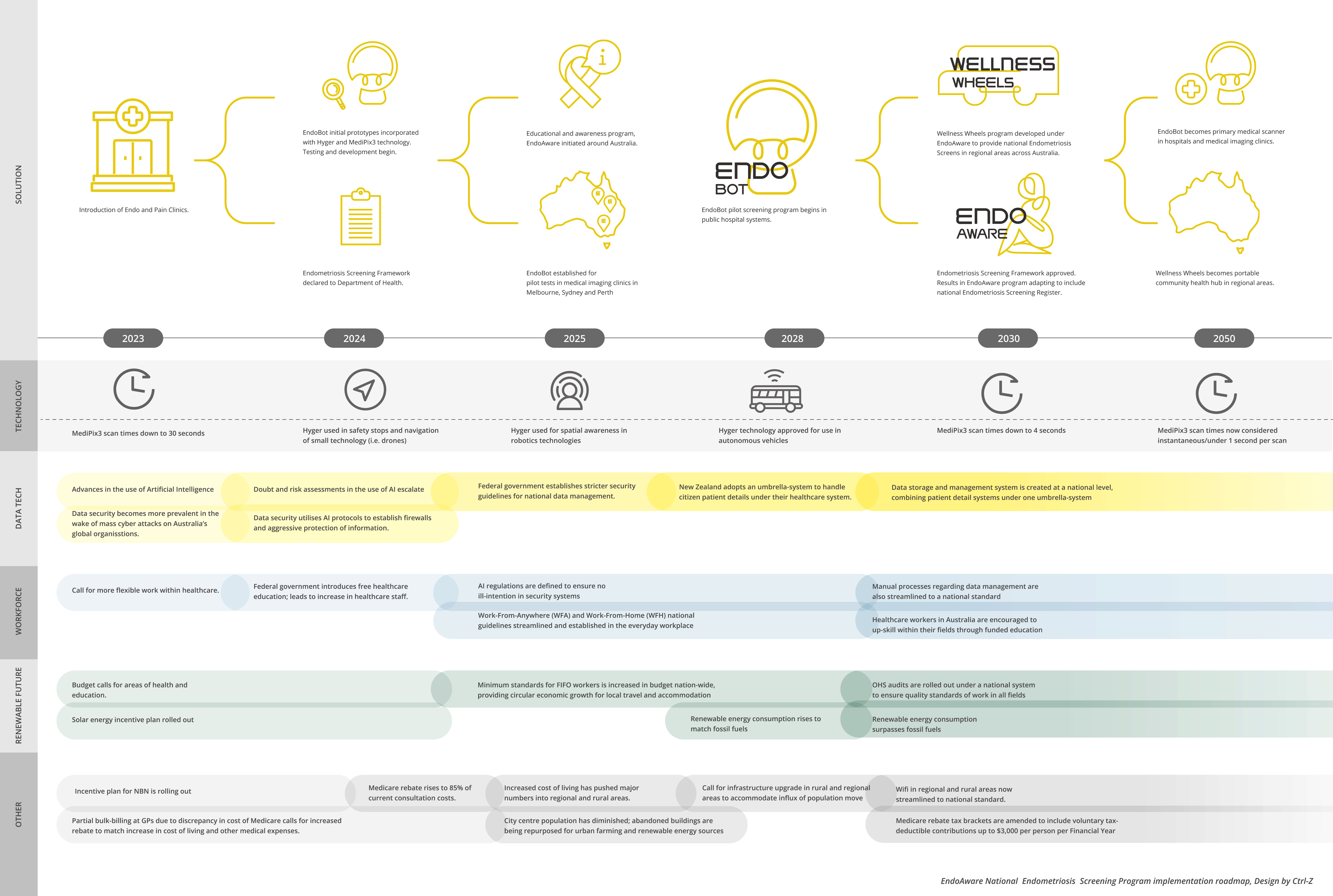 How EndoAware, EndoBot and Wellness Wheels will develop from now into 2030, and beyond.
Map by Haowei Tu (Howard) and Nildene Spagnuolo.
Beyond 2030, we see EndoBot becoming the primary tool in hospitals, medical imaging clinics and emergency vehicles for any sort of medical screen. We see EndoBot's scanning technology, Medipix3, becoming more advanced, with more accurate calibration and scanning capabilites.With the advancement of HYGER technology, EndoBot becomes more autonomous than ever, allowing for self-navigation to patients. In hospital settings, EndoBot's autonomous features means that it would be able to attend to patient rooms directly, giving more time back to medical staff for other patients as well.
We also see Wellness Wheels becoming more consistent fixture in Australia's rural and regional healthcare, providing health hubs to these areas. Wellness Wheels would become more autonomous and energy-efficient in the wake of an increase in renewable energies, particularly in vehicles, and has the opportunity to become mroe advanced using technologies such as HYGER.
Team Snapshot
We can see the light at the end of the tunnel and we are beyond excited to finally get there. We're well on our way to having our solution prototyped out and possibly functioning!
Other highlights:
We organised ourselves some team t-shirts! Keep an eye out for them in coming a coming post.
Quote of the Week:
"But can we make it spin?"
[PAUSE. ONE. TWO]
"It could spin."
– Conversation between Aaron Down (DFM Teaching Team) and Keiran Lewis (Prototyping Lead)
Next Steps
Refine our final presentation
Sort out our final deliverables, including our solution video
Get started on our white paper
Stay motivated!