What we work on
This week we get together and step back from technology and look at our problem space again. We had more discussion and research on the 'people' at the airport to understand the human aspect and factors that might influence the airport operation.
Also, we map the incoming airport operation system in more detail. This helps us find out the gap that we can develop our concept within the airport system.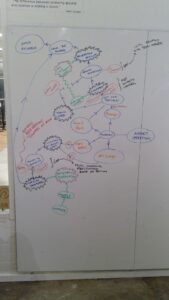 Several problems we found out as below:
Lengthy process for clearing
Visual monitoring effectiveness
misuse of customs authority
human access before scanning
technical drawbacks/limitation
Interview with James Martin
As the illicit drug is a complex and complicated issue, we are keen to meet with experts in the field to enhance our knowledge. Fortunately, we got a great opportunity to speak with James Martin, an expert on the darknet and online trade in illicit drugs.
With an online anonymous market, the dark web increases the accessibility for individual drug dealers. Illicit drugs can easily come into the country from online order through the international postal system. Also, profiling drug traffickers allows the trust between seller and purchaser. It helps us understand the behaviour of drug trafficking.
James also discussed the future trend of the drug issue. A British researcher David Nutt demonstrated that alcohol is more harmful than most illicit drugs. So, if alcohol is more harmful, why alcohol is legal while drugs are still banned? It might be a huge potential trend of decriminalising drugs in the future as there have been several countries have legalised certain types of drugs.
What's Next
We are excited about the finding from the interview. In the next step, we would keep doing research and start our prototyping.