The days to our Design Freeze on March 19 are numbered! Team ASE is working away and only now we looked back to see exactly how much time and effort we have put into this project. Things are getting ever closer to the end, but still so much work to be done!
What we worked on
This week, we received an in-class input on the Implementation roadmap we have to deliver in the near future: more specifically, delivering the summary visualisation, timeline roadmap (gives timeframe to external drivers of the design) and stakeholder roadmap (essentially, an analysis of each stakeholder and how they contribute, etc.) for our project and relevant concepts involved. Road-mapping is a great tool to visible our idea on the implementation and evolvement of the project. When designing in a future scenario, it is not all based on fictional ideas that come out of nowhere. Roadmapping helps to think through our concept from idea development to implementation systematically.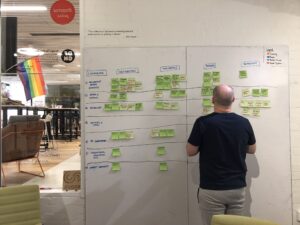 We began working on a form of project management gantt chart from now until the end of our project, outlining tasks that need to be done and what is involved, for our own benefit. We thought it was relevant to create for the rest of the project at this stage as we felt that it will be a crazy busy final stretch! We also began working on form developments for our HALO Pad concept, trying to work on the physical form and how we could prototype and test with users, and in what context we can test this concept in.
What we learned
We find the road mapping task is really helpful for us to clarify our thoughts and think through the details of our design.
Stakeholder roadmap is a good tool for breaking down the stakeholder who would, directly and indirectly, be involved in our development. We learned to pinpoint the important role of each stakeholder and realise who might be the proper person to undertake certain tasks through the process. And through the timeline roadmap, it helps us identify the tasks we have to consider in sequence. We are excited about our progress and looking forward to our next step.
Quote of the week
"Design freeze? It's crunch time!"
What's next?
We will aim to organise to speak with our buddy teams Clash & Bee in the next week or so. We also aim to speak with our CERN Coach, George, notifying him of our progress and developments in forms and technological considerations. We aim to finish off more form development prototypes and hopefully do some user testing in the coming week. We also want to continue to develop our implementation roadmap. A visit to Melbourne airport is also something we consider organising in the near future, although we wish it would've been taking us to an amazing destination.